Reduced Schedule from April 27 to May 13, 2016

There will be NO morning sitting on Monday (May 2 & 9), Wednesday (Apr. 27, May 4 & 11) and Thursday (Apr. 28, May 5 & 12). The normal schedule will resume on Monday May 16, 2016.
The noon and evening session on Thursday May 5 and the morning session on Friday May 6 will take place in the Social Hall, located on the lower level of the Program Building.

Mindfulness Meditation & Practices

Mindfulness is our inherent capacity of healing and renewal. It is the basis for transforming ourselves and creating a more harmonious family and society. To be mindful is to be aware of what is going on in our body, in our feelings, in our mind and in the world, as we avoid doing harm to ourselves and others.

With the help of conscious breathing - breathing and knowing we are breathing - we are able to touch and be nourished by the peace and joy that are available within and around us, in the here and now. With continued practice, we shall touch and understand the roots of the pain that lie deep within us, such as fear, anger, despair, thus making transformation and healing possible.

The practice of mindfulness is the practice of love. Mindfulness relieves suffering because it is filled with understanding and compassion. When our mindfulness embraces those we love, they bloom like flowers.
The Mindfulness Practice Center of Fairfax (MPCF)

MPCF offers sessions of training in and practice of mindfulness in a non-sectarian way. Sessions are offered in the secluded setting of the Unitarian Universalist Congregation in Oakton. It is a quiet, beautiful and spiritual space.

Video: 5-Day Retreat at Prindle Pond Conference Center, Charlton, MA (June 12-17, 2015)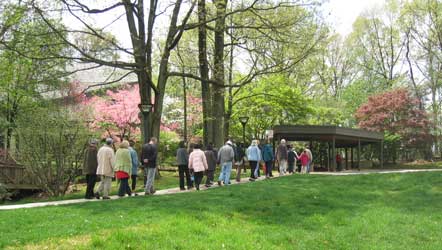 Outdoor Walking Meditation at the MPCF

Our Teachers
| | |
| --- | --- |
| | Principal teachers are Anh-Huong and Thu Nguyen who have been practicing mindfulness in the tradition of the Zen master Thich Nhat Hanh for 30 years. They have led mindfulness retreats in the United States since 1988 and in 1992 were among the first students to be ordained as meditation teachers by Thich Nhat Hanh. Anh-Huong is the author of "Opening the Heart of Compassion", a guided meditation CD and co-author with Thich Nhat Hanh of "Walking Meditation", a multimedia manual on mindful walking. She has also translated several of Thich Nhat Hanh's books into English, including "The Sun My Heart" and "The Diamond that Cuts through Illusion". |